So, we start this post with another confession. Here it is: I'm not really a fish sort of person. It's not that I don't like fish so much, more that it's often disappointing. For some fish, it's just a flavour thing – bland and tasteless; for other fish, it's the bones. Boy do I hate fish bones. Trust me, there's nothing that is likely to put my off my dinner more than a mouthful of needles.
The upshot of all that is that I don't tend to cook fish all that often. Of course I don't avoid fish entirely – you can't beat a good piece of battered haddock served with chips doused in malt vinegar. And anchovies – they're like the crack cocaine of the fish world, with mackerel a close runner up there. Those things are pretty delicious – but as a food group, on the whole, I feel pretty 'meh' about it.
The trouble is, Sue really likes fish. It's probably the one big incompatability we have. And so, as I do all the cooking, she probably doesn't get anywhere near as much fish as she would like. So it goes.
When I mentioned that I was going to make fish pie, it's probably an understatement to say that she seemed pleased. If I'm honest though, a good fish pie is an excellent thing, even by my standards. It's one of the world's great comfort foods. The real problem is that a good fish pie is rather hard to come by these days. If you want one, you have to make it yourself.
The Prawn Cocktail Years' Fish Pie contains three kinds of fish – cod, smoked haddock and prawns (yes, for the purpose of this post, we'll pretend prawns are fish).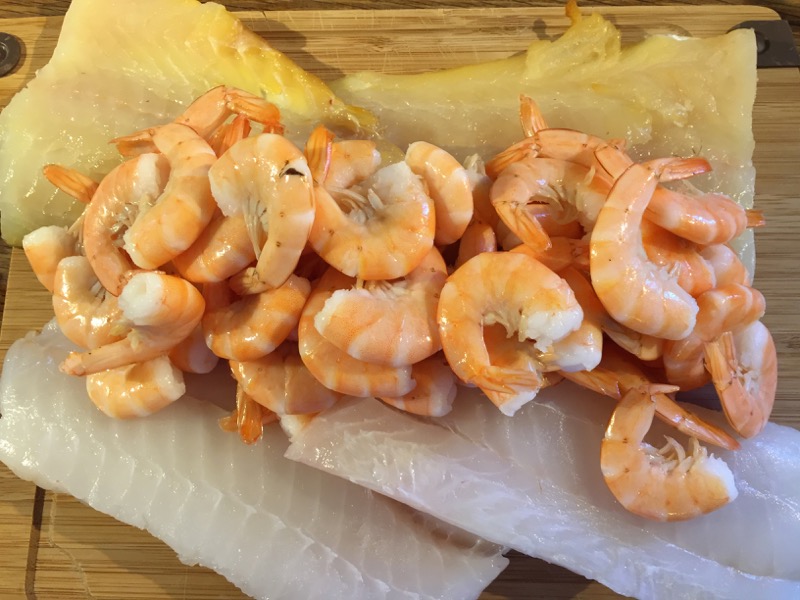 First, make the stock base for the filling. That all starts with peeling the prawns.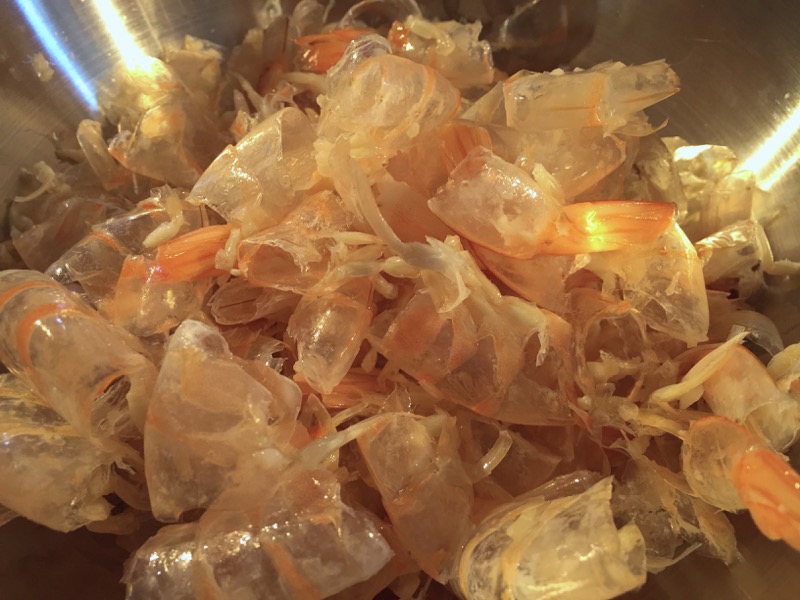 Remove the shells from the prawns, and boil the shells in milk together with onion, bay leaf and a little salt. Simmer for a little while, and then leave to infuse.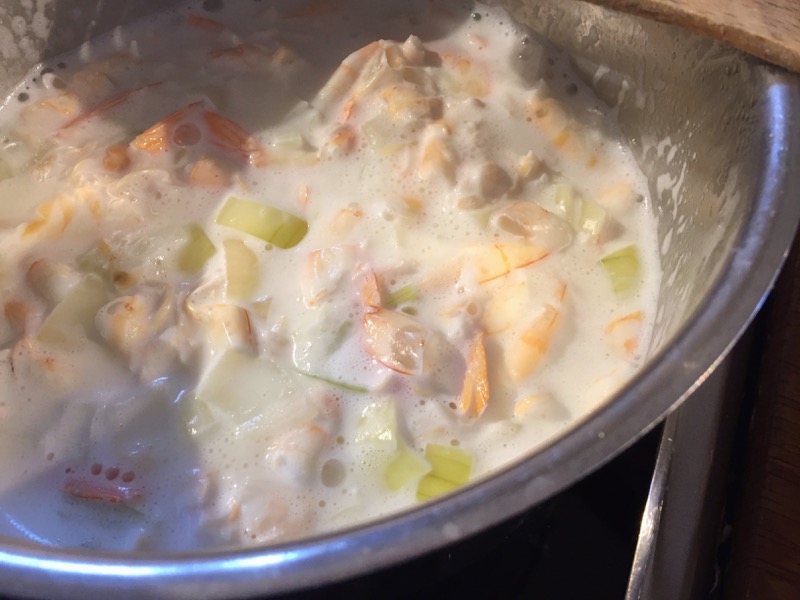 I tasted the milk at this point. The subtle, savoury prawn flavour was absolutely delicious. I already had high hopes for this meal.
Put the fish in a shallow pan, strain over the milk and simmer, turning the fish after a little while.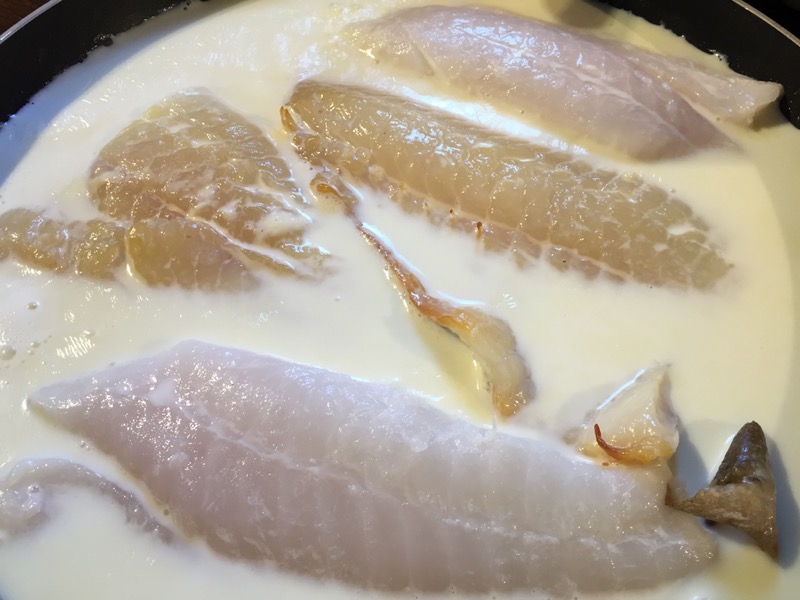 As soon as it's barely cooked, remove the fish to a plate and leave to cool.
Break up the fish into chunks, leaving behind the skin – and, most importantly, any bones – and place in a bowl with the prawns and a generous amount of chopped parsley.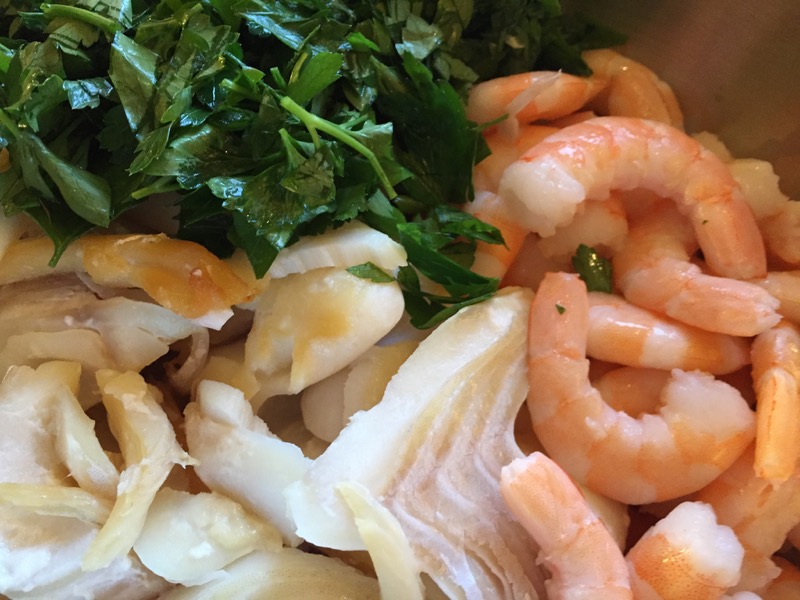 Next, the sauce. That starts with a roux, and then the fishy milk is added a little at a time until we have a thick, creamy sauce. Simmer very gently for a while, and then season with salt and white pepper. I tasted it again. I think this is going to be good.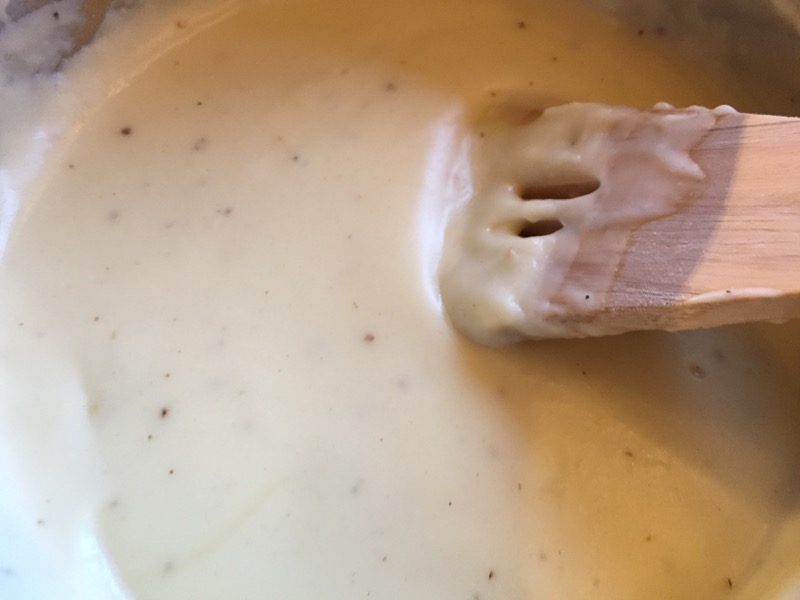 Finally, pour the sauce in with the fish and parsley mixture and mix it gently. Pour into a pie dish and place into the fridge to chill a little.
Now for the mashed potato topping – pretty straightforward, boiled potatoes, pushed through the ricer, and mixed with milk and butter.
To finish, I spread the potatoes over the top of the fish mixture, and marked patterns with a fork. There was an awful lot of potato here. Never mind, I stacked it up high.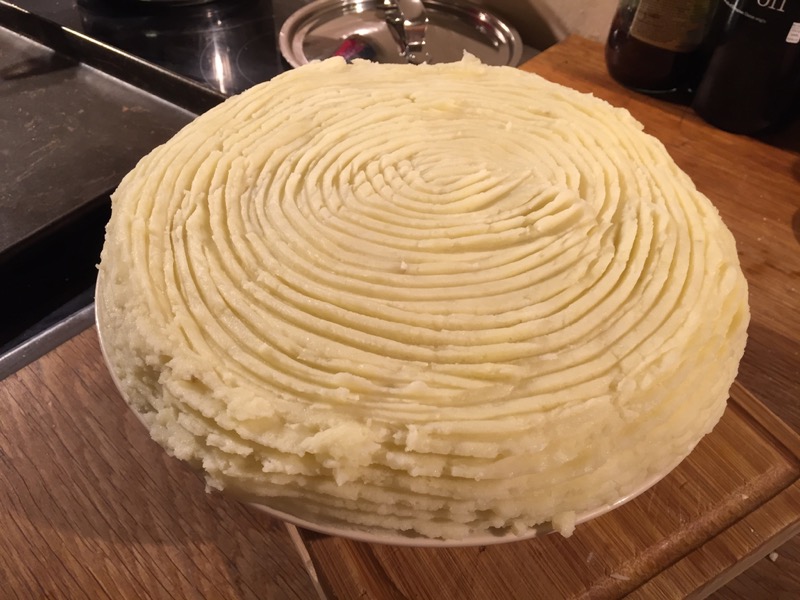 After baking in the oven for about three quarters of an hour, I served with some peas.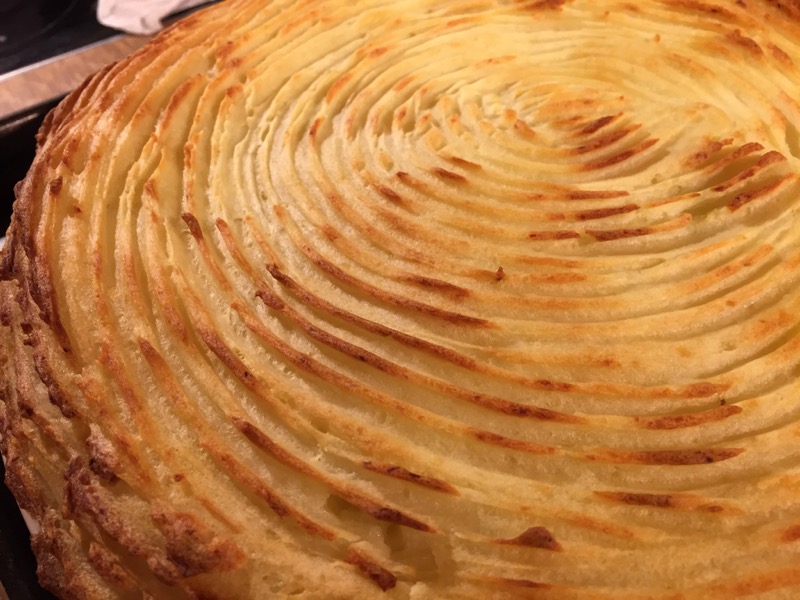 It was delicious. I have to say, this is probably the best fish pie I've ever eaten. If all fish dishes were as bone-free and tasty as this one, I'd be a convert. Well worth the effort.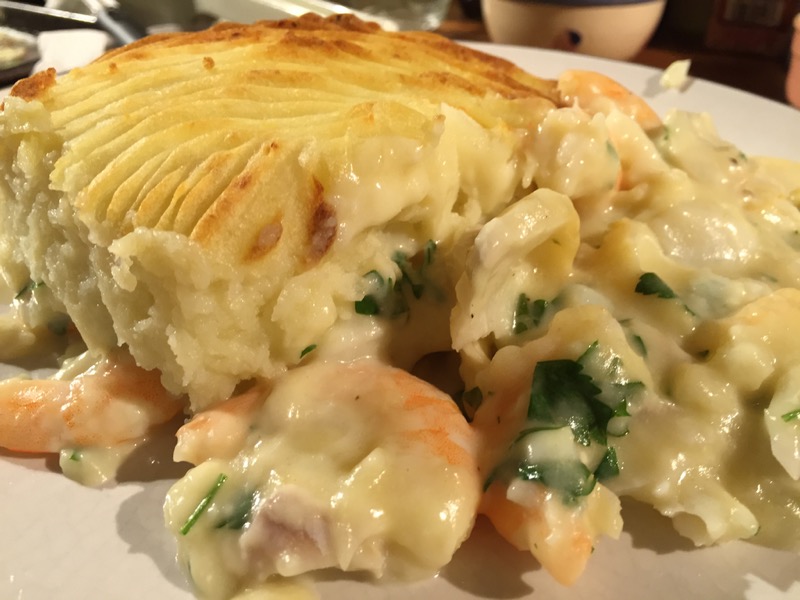 Sue says:
It's fish pie week! Yes 😉 FISH PIE
I love fish pie. Well, a good one anyway. There are plenty of poor fish pies around, don't get me wrong. But somehow I suspected that the fish pie in The Prawn Cocktail Years would be somewhat better than the average.
I was not wrong.
I'm glad Dave made this ultimate comfort food on a day when I was in the house with him because the scents wafting out of the kitchen from around mid-afternoon onward, have been delicious.
He made a stock with milk and the shells from the prawns and other bits and bobs so that all smelt nice. Then he cooked the smoked haddock in that milky stock, so that smelt gorgeous. Then he made a béchamel sauce with the now further enriched stock. The aroma just kept getting better.
When I first saw the pie I was so impressed with the raised and beautifully scored golden top. But the real joy was when he plunged the knife in and the steam came out. Following by a huge chunk of pie, bursting with cod, prawns and smoked haddock. No cheaper cuts to flesh this beauty out.
It was, simply, delicious.
And the best bit is we have a lot of left-overs.
10/10