When I started out on this culinary adventure, my friend Anya bought a copy of The Prawn Cocktail Years so she could follow along and see the recipes behind what I was making. When she got the book, pretty much the very first thing she said to me about it was that she didn't like the sound of the Devilled Herring Roes recipe: "it creeps me out". She did later go on to say "but I should probably get over that. I don't let other people be fussy or squeamish." I bet she's still not tried them, perhaps I need to formally challenge her to make them.
Devilled Herring Roes on Toast used to be a regular weekend lunch here. I don't recall when I stopped making it – it wasn't a conscious decision, I guess it just gradually drifted off my culinary radar and slowly slipped its way out of my regular repertoire. It's a shame – it was always delicious. Still, this is a good way to get it back on there.
I've been keeping an eye on the fish counter at Waitrose for a little while now, but had not seen any herring roes. Perhaps they had stopped selling them? I was losing hope, and then suddenly, the other day, there they were. I immediately bought a tub – that was Saturday lunch sorted.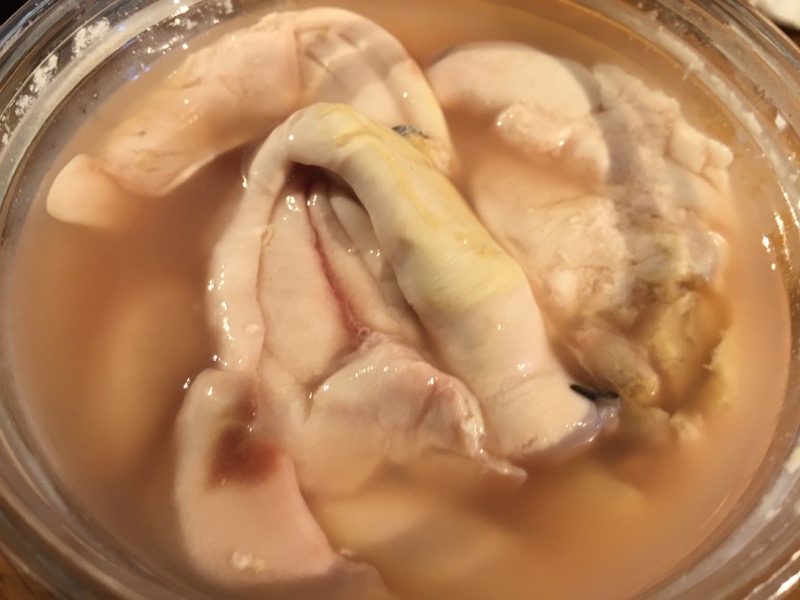 I'm going to start here by saying that the recipe in the book is rather on the stingy side. It claims it "Serves 2", with just 200g of roes. Personally, I'd say that's more of a "Serves 1" sized portion. Needless to say, my pot of roes was a little over 400g.
I start by doing something I've never done before when making this dish. I clarify some butter. The recipe calls for clarified butter, but I've always thought that was too much faffle, so just used regular butter instead. Well, this time I was going to do it properly. I melted the butter, removed the scum from the surface and let the milk solids sink to the bottom of the pan before carefully pouring the clear, liquid butter off into a dish.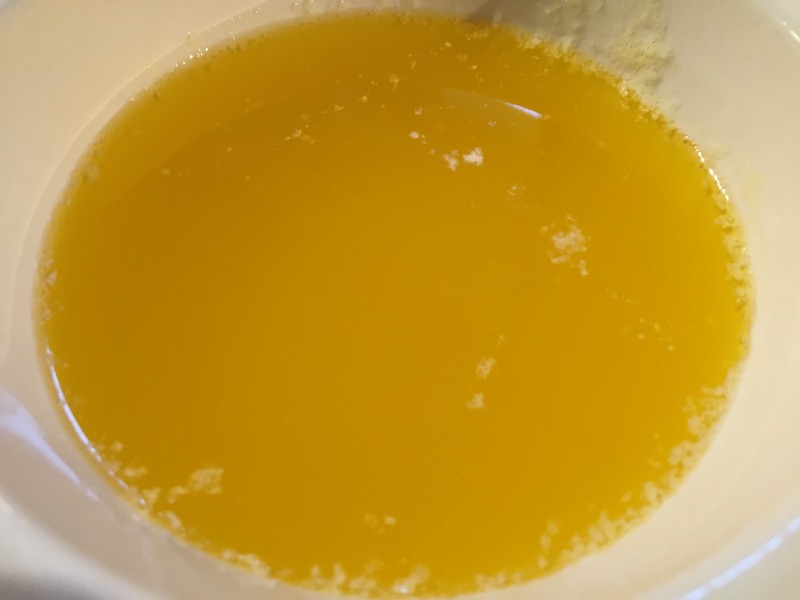 I also do something else that I've never done before when making this. After I cut the slices of bread I'm going to toast, I remove the crusts, just like the recipe says. I told you I was going to do this properly.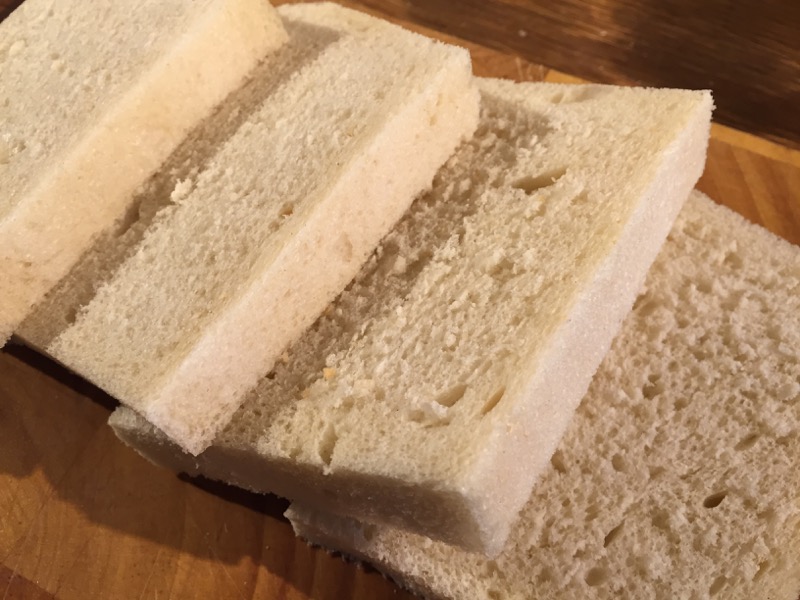 Now for the roes. I start by quickly blanching them in a pan of boiling water, and then draining them and blotting them dry with some kitchen paper. This firms the roes up a little and make it possible to handle them without them disintegrating.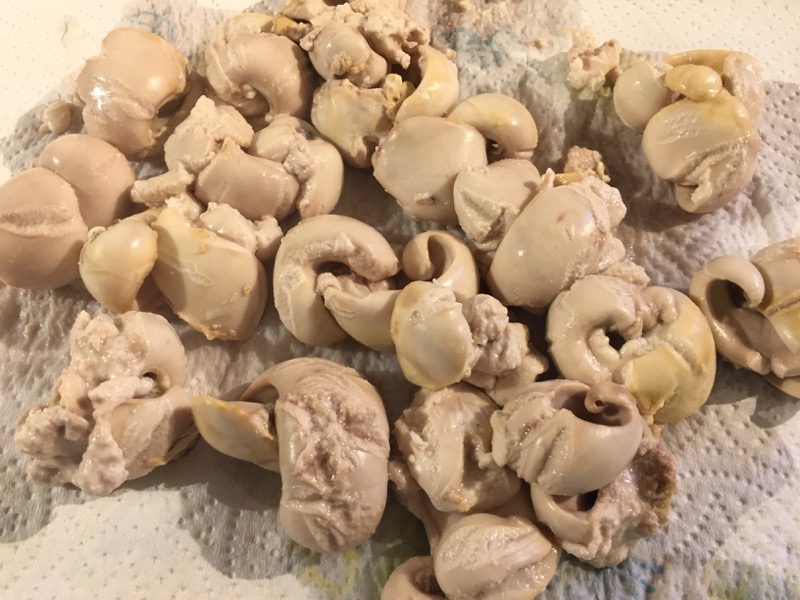 I season the roes with a sprinkling of cayenne pepper.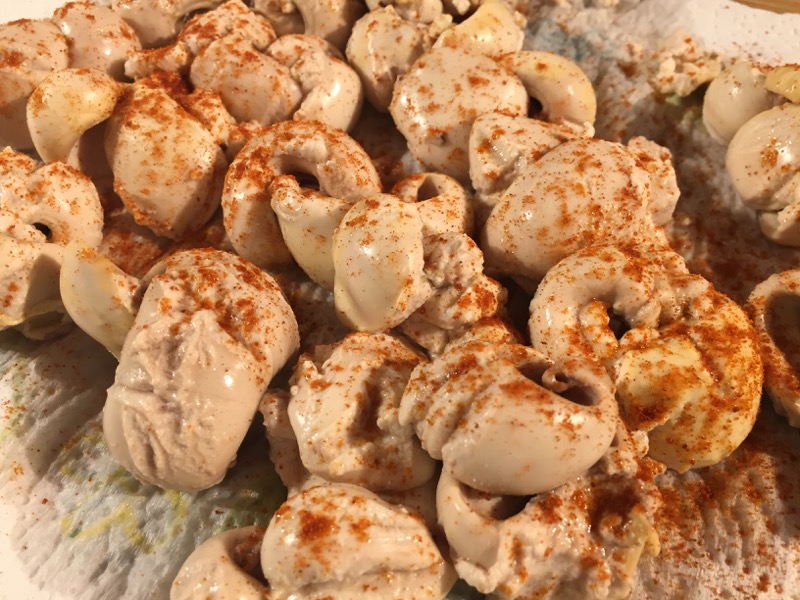 And then roll them in flour.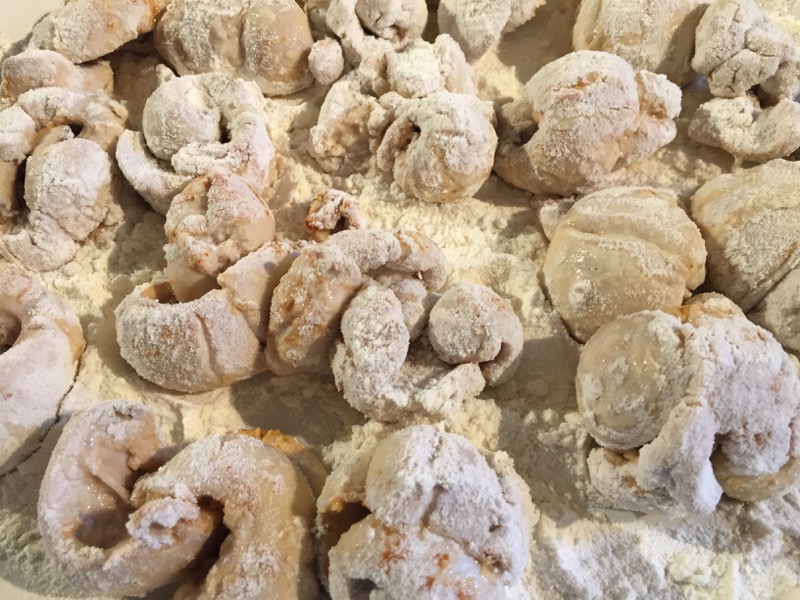 Next, I heat the clarified butter in a pan, and fry the roes.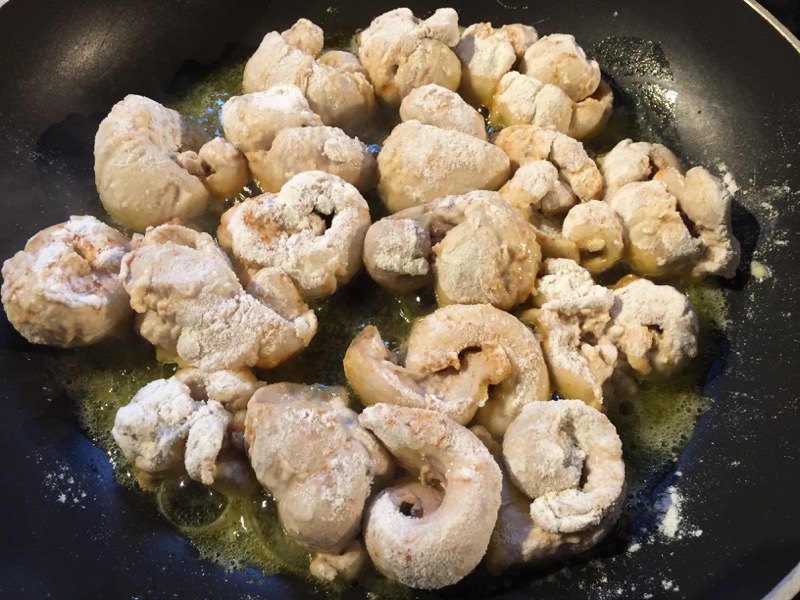 After a few minutes, I turn them over, cooking them until they're golden and slightly crisped.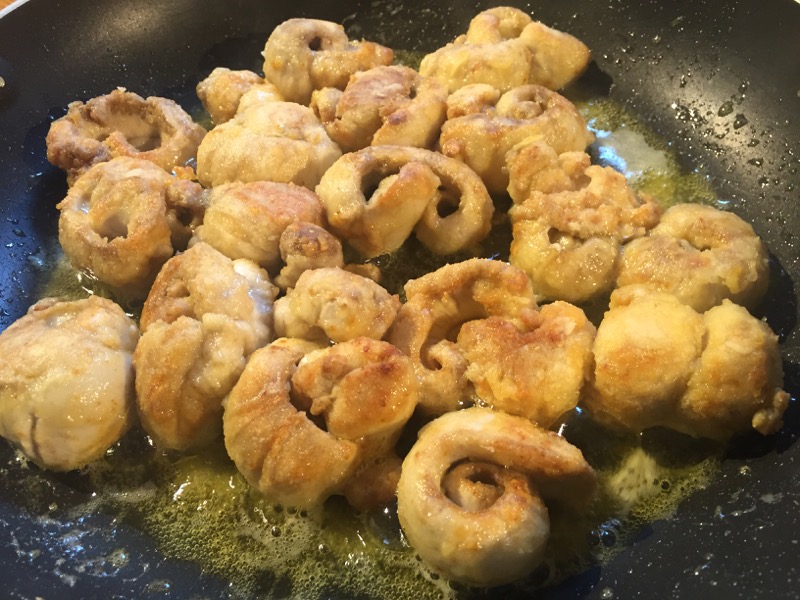 Next, I remove the rows and drain them, empty the clarified butter from the pan, and melt some new, fresh butter.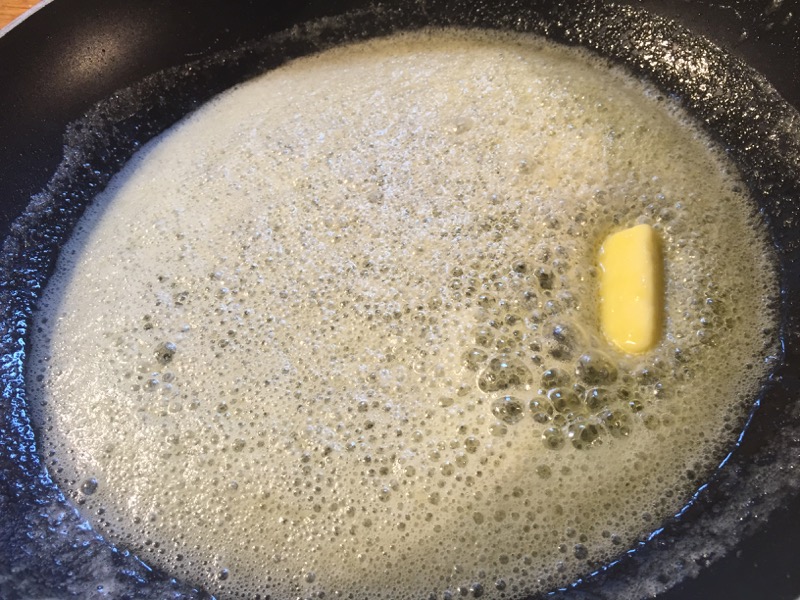 As soon as the butter foams up, I return the roes to the pan, and toss them gently until they're coated with the butter.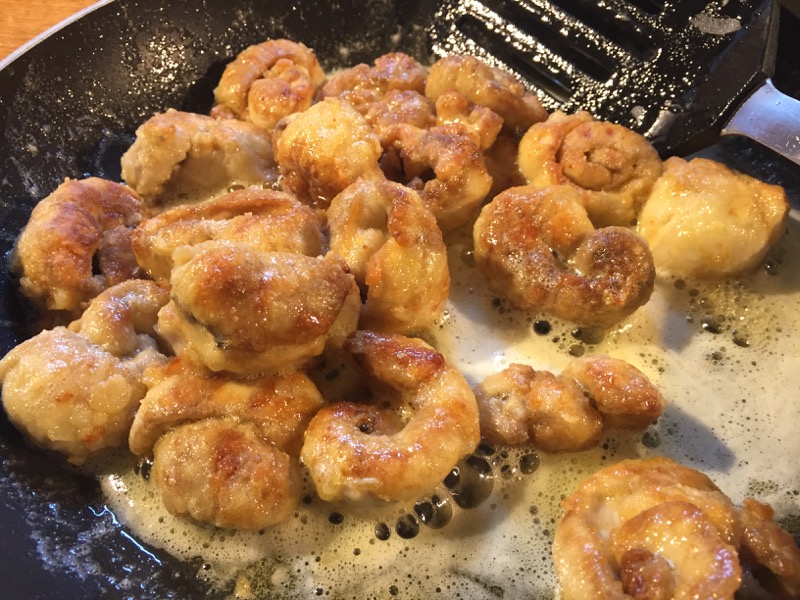 During those final couple of minutes, I also toast the bread, and as soon as it's all ready, I put the roes on the bread and drizzle over the rest of the butter from the pan.
I sprinkle with cayenne and a little Maldon salt, and serve with a wedge of lemon.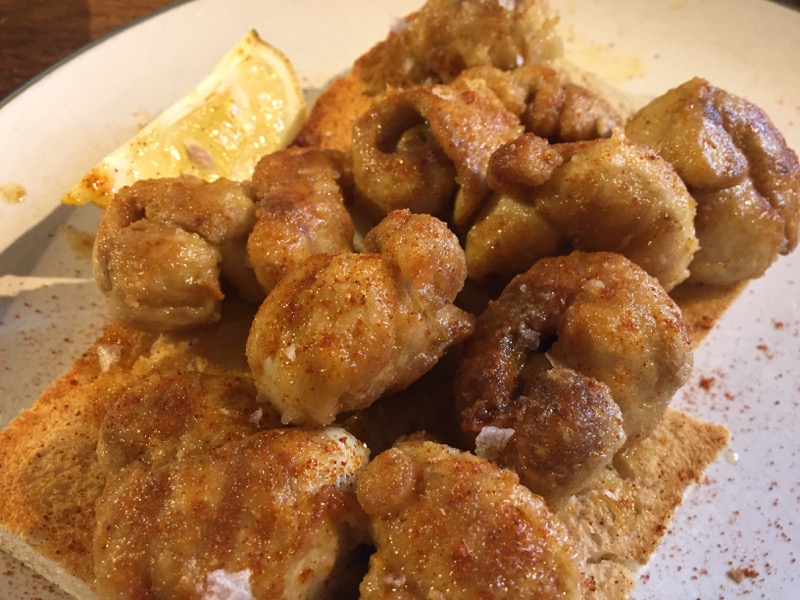 I love Devilled Herring Roes. Why did I stop making this? These are delicious. The roes are slightly crisped on the edges, and beautifully soft and creamy on the inside. They positively melt when you bite into them. Yum. This one is definitely back on the repertoire. Anya, try them. They're delicious.
Sue says:
Dave promised a Saturday lunch that we hadn't had in a long time and that I liked. So I was very pleased when it turned out to be soft herring roes on toast. I love them.
The roe is the star of the show of course. They were served with perfect texture of golden butter fried outside and deliquescent interior. They sort of shiver on the toast when carried. Herring roe is so soft and creamy and the cooking in butter is just the way to treat them.
Served with a wedge of lemon these beauties made a perfect lunch.
10/10