I don't recall ever making goulash before. I guess I must have done, somewhere in the dim and distant past, but it's certainly not something I've done recently. To be honest, I'm not even really sure what goes into goulash. Paprika, certainly, and a swirl of cream on the top, but what else? Well, I'm about to find out.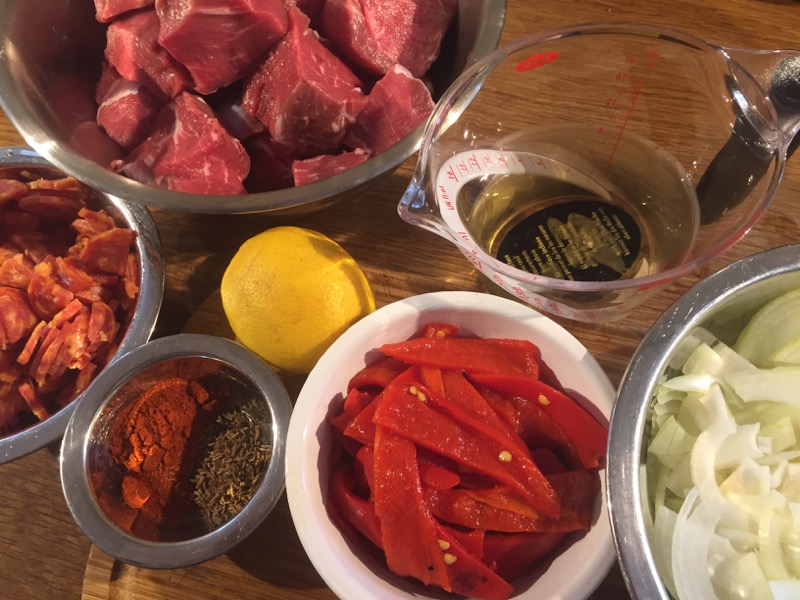 This particular recipe uses veal, and also pepperoni, the inclusion of which is said, by the authors, to be "controversial". So, I prepare the meat and cut the veal into large cubes. The only pepperoni I can find is already sliced, so rather than cut that into dice, I end up having to settle for quartering each slice.
Next, I melt butter in a pan with some oil, and fry the pepperoni until it's slightly crusted.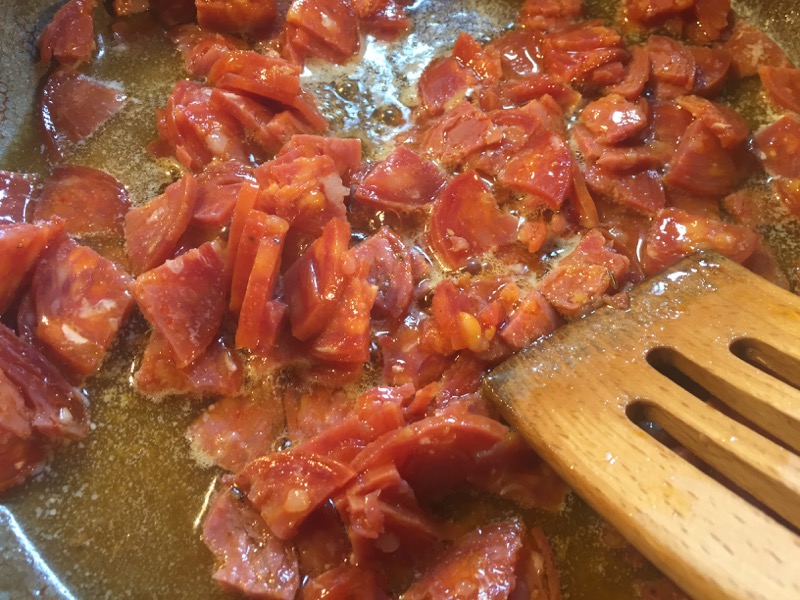 I follow that with the cubes of veal – they get seasoned, rolled in flour and then fried until well browned.
I put the veal to one side and cook some sliced onion until golden brown. Next, a jar of roasted red peppers, drained and sliced. This all smells delicious, the oil from the pepperoni flavouring the onions and pepper as they cook.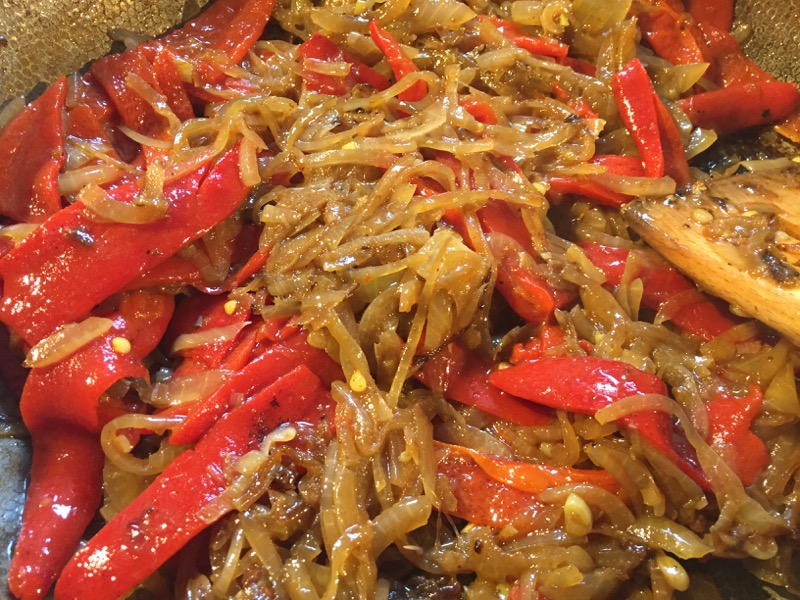 Finally, the spices – paprika and caraway seeds. I was a little surprised at the amount of paprika used – it seemed tiny, I was expecting to use rather more than that. Oh well, I'm sure they know what they're doing.
I finish off by adding some white wine and lemon juice, then returning the meat to the pan and bring it all up to a simmer. Once simmering, I transfer it to a large casserole dish and put it in the oven to cook slowly.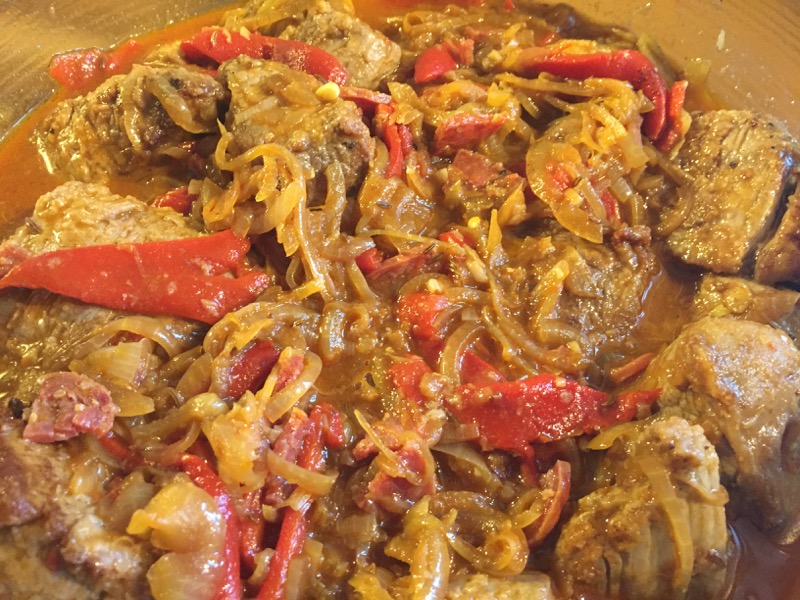 While the goulash is cooking, I make some pasta and cut it into wide strips.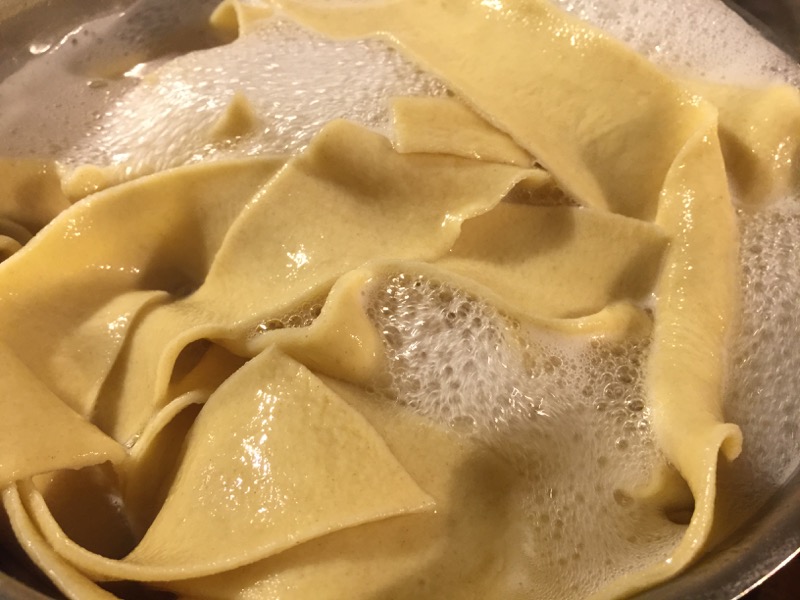 To serve, I top with a little soured cream and a sprinkling of chopped chives.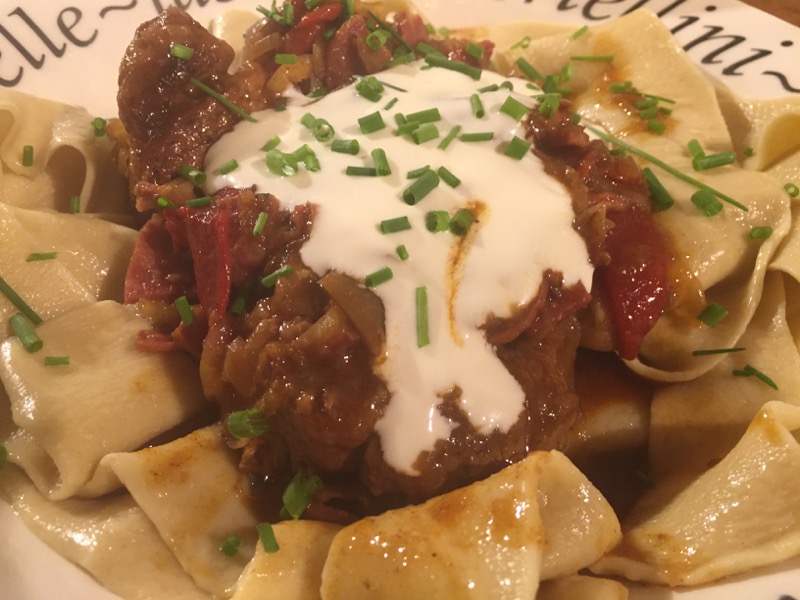 The goulash was OK, if a little boring. It seemed to lack flavour – I was expecting far more of a kick from the paprika and the pepperoni, but really, it was all rather bland and disappointing. It definitely needed more spice. There's still rather a lot of this left in the fridge, and I think I'll need to do something with it before I can get away with serving it up again. Perhaps I can make a chilli…
Sue says:
I used to make this dish myself, back in the day when I actually cooked. Not that I can remember those days now. I do remember substituting the cream with yoghurt, that was the time cream and saturated fats were first getting a blast in the press. Idiots! We believed it for a time.
This was not like I remember mine to be. I'm not saying mine was right and this wrong, in fact, given that my cook book collection at the time all came from M&S I'm sure my recipe was a vague nod in the direction only. However, I liked what I remembered more than this version.
In fact, I didn't much like that at all really. I thought it was very bland. Despite the best quality meat and Dave's homemade pasta (lovely) to go with it. There was some sauce, but not enough for me. The sauce was nice but didn't seem to have transferred the flavour to the meat. I didn't get a kick from the paprika.
I ended up leaving half of it. And there were already left-overs. Why is it that the things we don't like that much always seem to have lots of left-overs and the things we like all go?!
I don't want this one again. Sorry.
6/10