The Prawn Cocktail years describes this as "possibly the best example of a dish that 'just isn't done any more, dear!'" It's true, I can't remember when I last saw it out in the wild on a restaurant menu. I only have dim recollections of having ever eaten it, and they aren't some of my fondest memories. I love duck, I really do, but slather it with overly-sweet, sickly sauce, and I'm much less keen. The preamble to the recipe in the book goes on at great lengths about how this dish has been ruined over the years, so perhaps this will prove to be a better than usual version.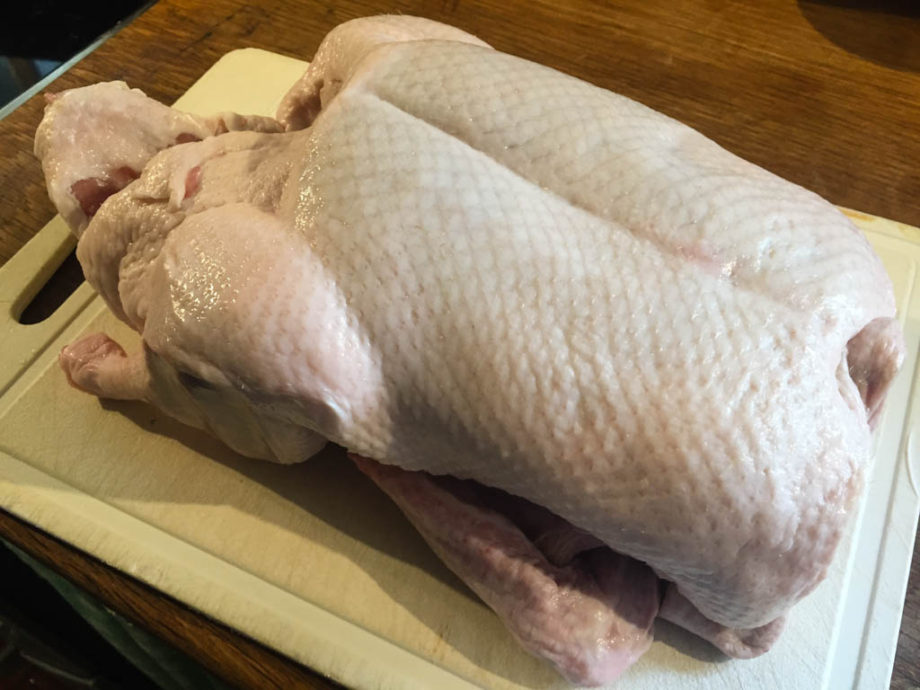 To start, I have to prepare my duck. This involves stabbing it repeatedly with a small sharp knife and then pouring boiling water over it. Then, I'm supposed to hang the duck to dry. Well, I haven't got anywhere sensible to hang it, and anyway, it's way too warm today for me to want to leave it hanging around somewhere unrefrigerated for hours – 20˚C, I checked. I mop it dry with kitchen paper and put it on a plate back in the fridge.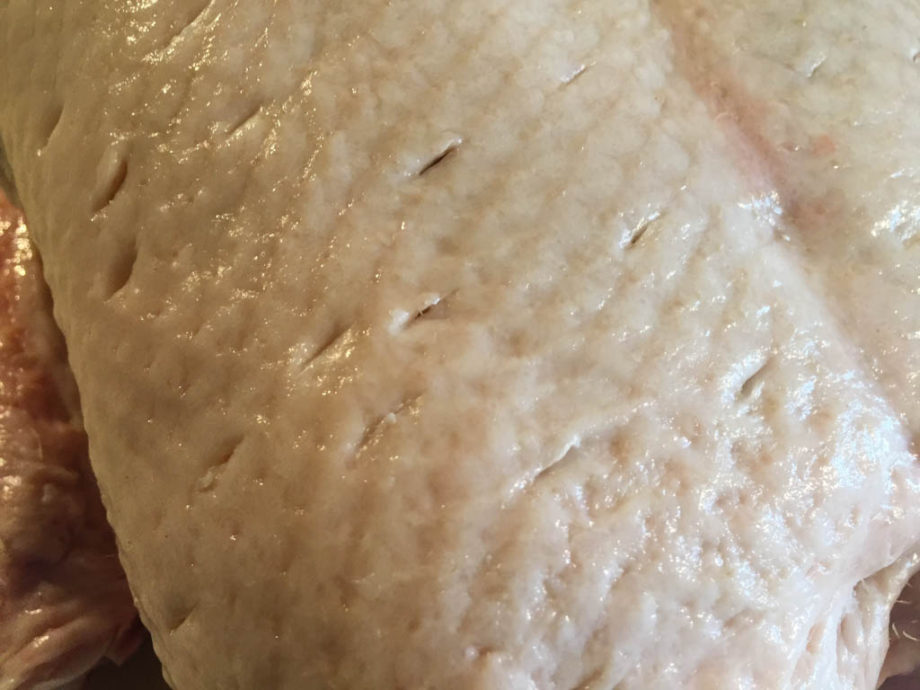 Later that day, I take it out and check on it. The skin hasn't dried out as much as it ought, but it's not too bad. That will have to do.
I rub the skin with salt and stuff the duck with black pepper, thyme, onion and orange wedges and then put it in the oven.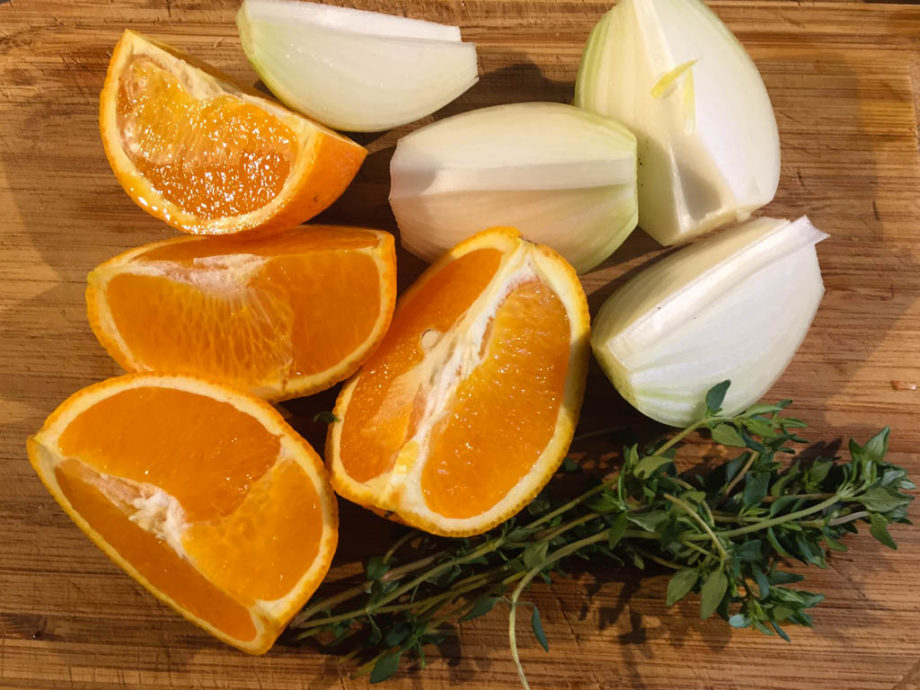 While that's cooking, I make the sauce. Heat some duck fat (OK, I used goose – it was what I happened to have) in a pan and fry bacon until crisp. Then add the duck neck bone and wing tips (the recipe also calls for the gizzard here, but I didn't have that) and cook those. Finally, some vegetables – the usual trio of onion, celery and carrot.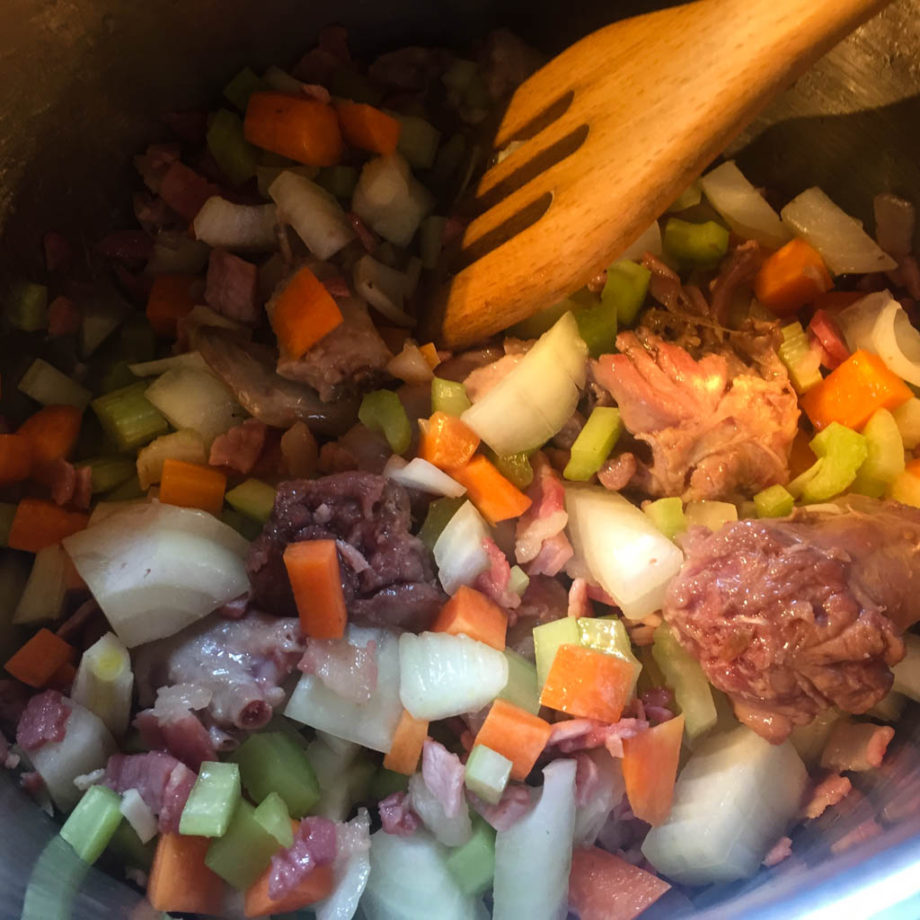 Next, I add some cognac, Grand Marnier and Madeira, and boil and reduce. Then chicken stock, orange juice and rindless marmalade. The sauce is simmered for half an hour and then strained.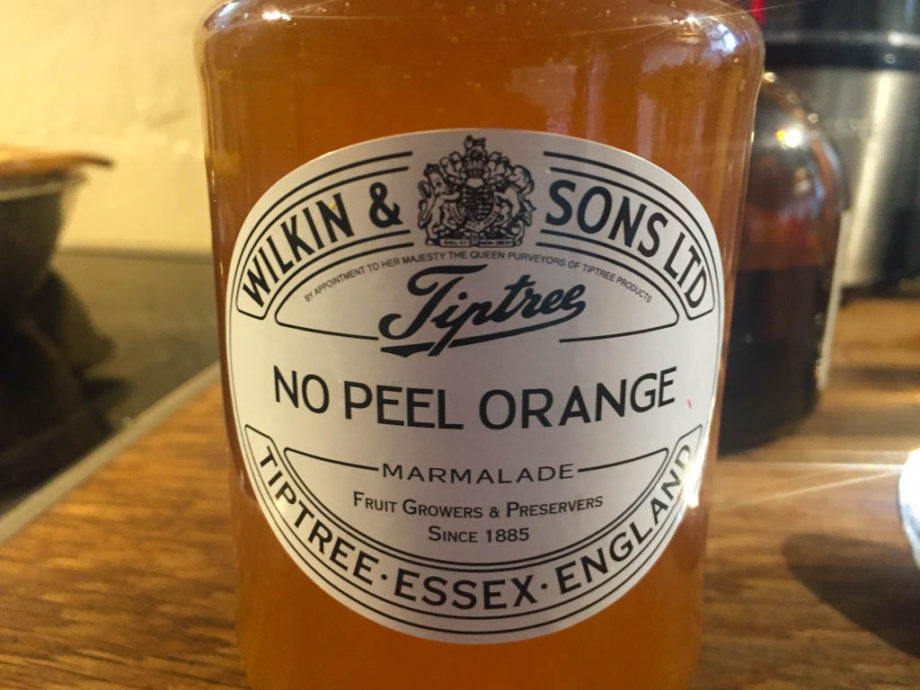 Finally, the strained sauce is reduced, arrowroot added to thicken it a little and then some lemon juice.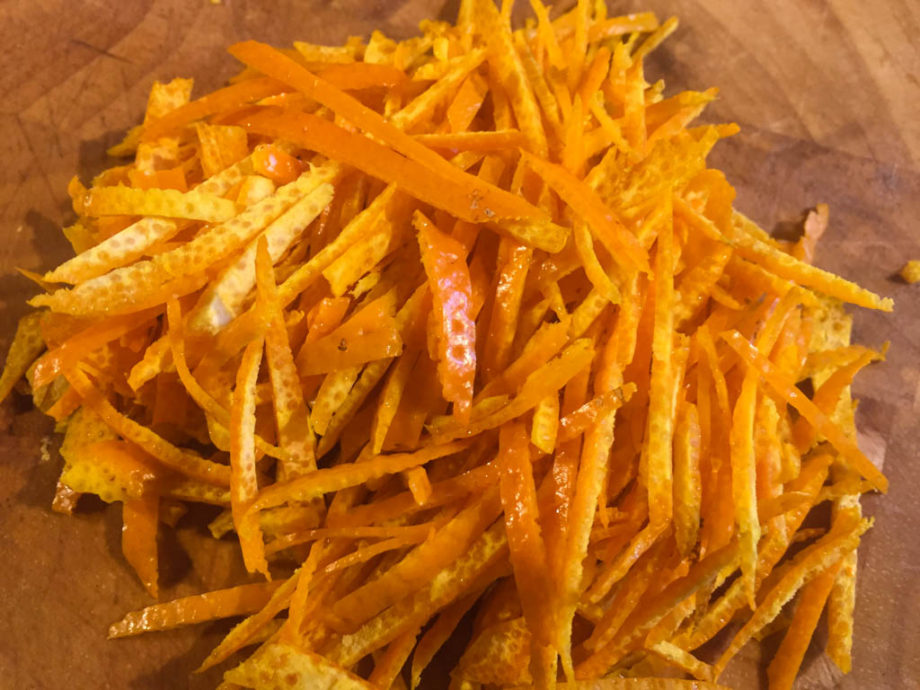 To finish, I blanch some sliced orange zest and add to the sauce.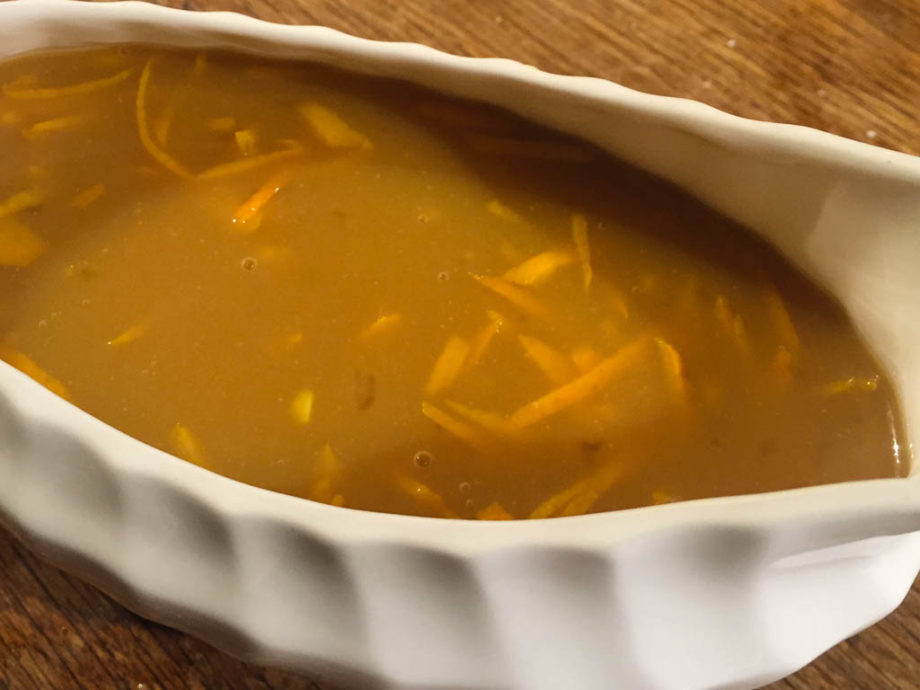 The recipe suggests carving the duck, laying the slices on a plate and decorating with sprigs of watercress. Ah, forget that, I was after a hearty dinner. I carved the duck at the table, and served it with creamy mashed potatoes and sous-vide asparagus and carrot.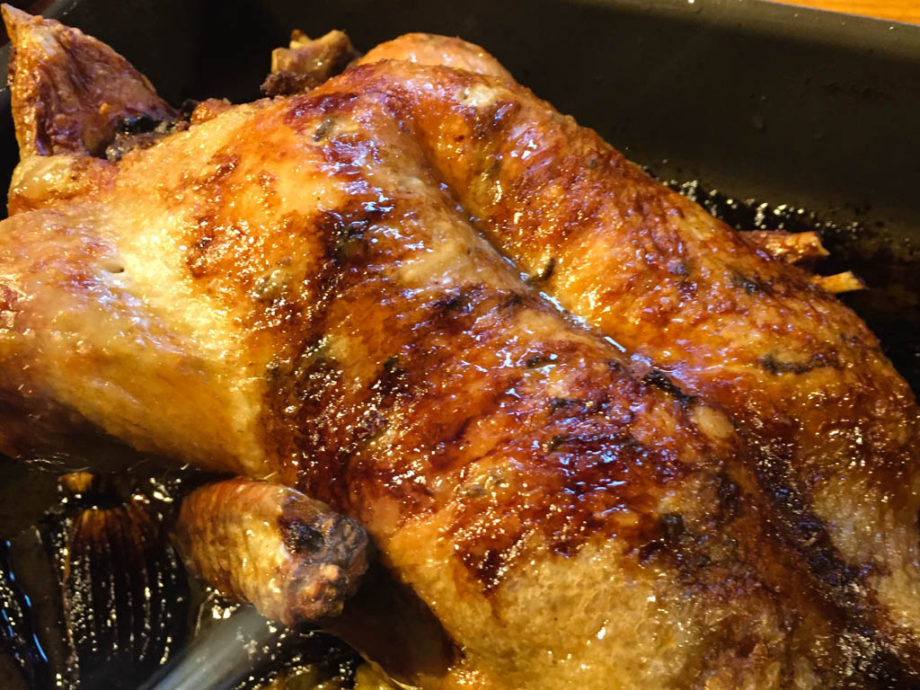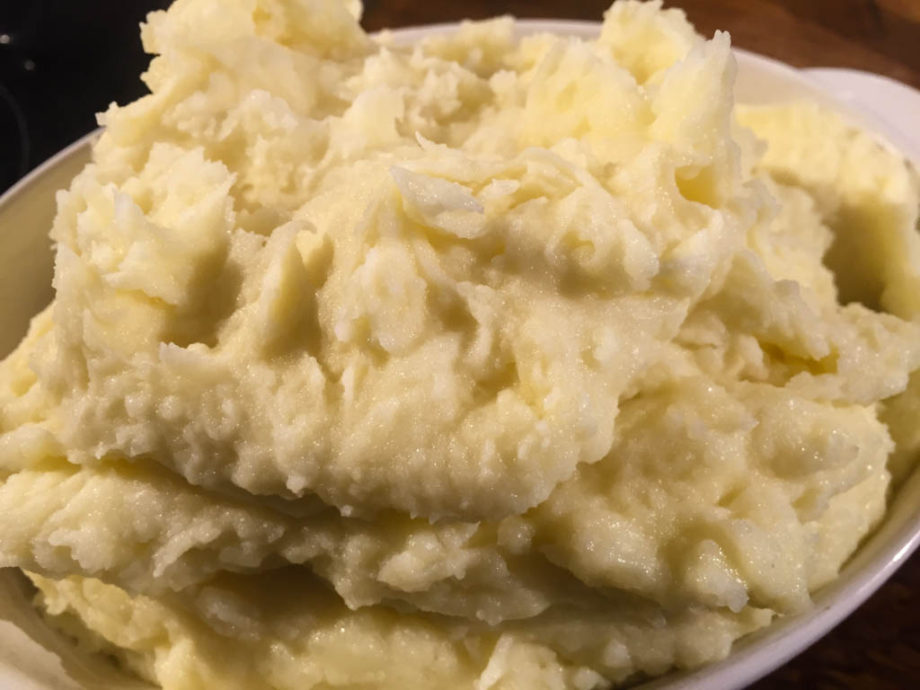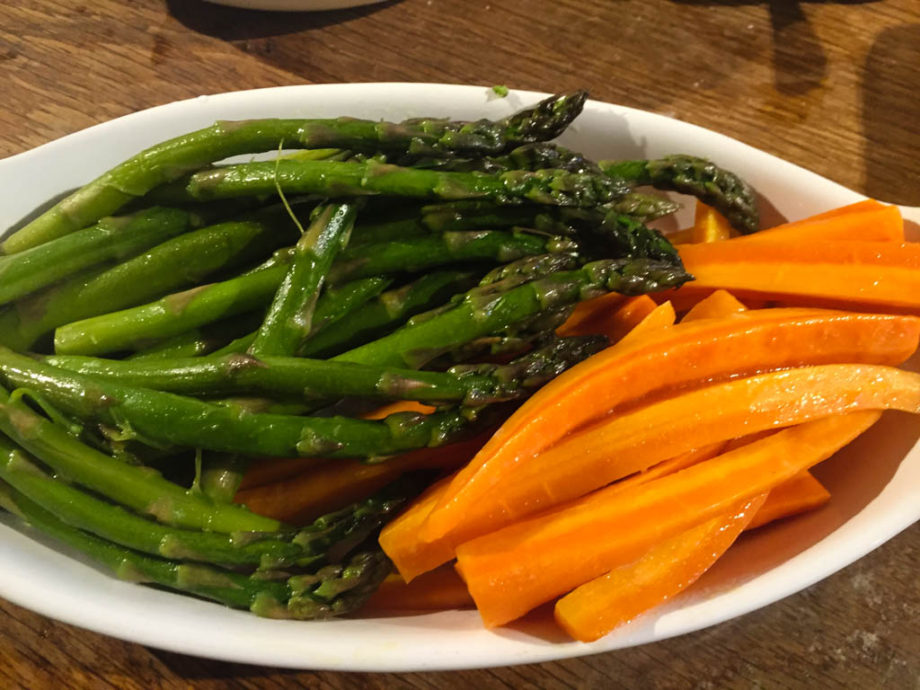 And it was delicious. Fabulous. Astoundingly good. When I started, I thought this one might be a decent recipe, but I wasn't prepared for just how good this was going to be. The sauce, of course, was the key thing here. Beautifully flavoured, just the right amount of orange, the barest hint of sweetness, absolutely divine. I'd never cooked this recipe before, but it's suddenly leaped into place as one of my favourite recipes in this book.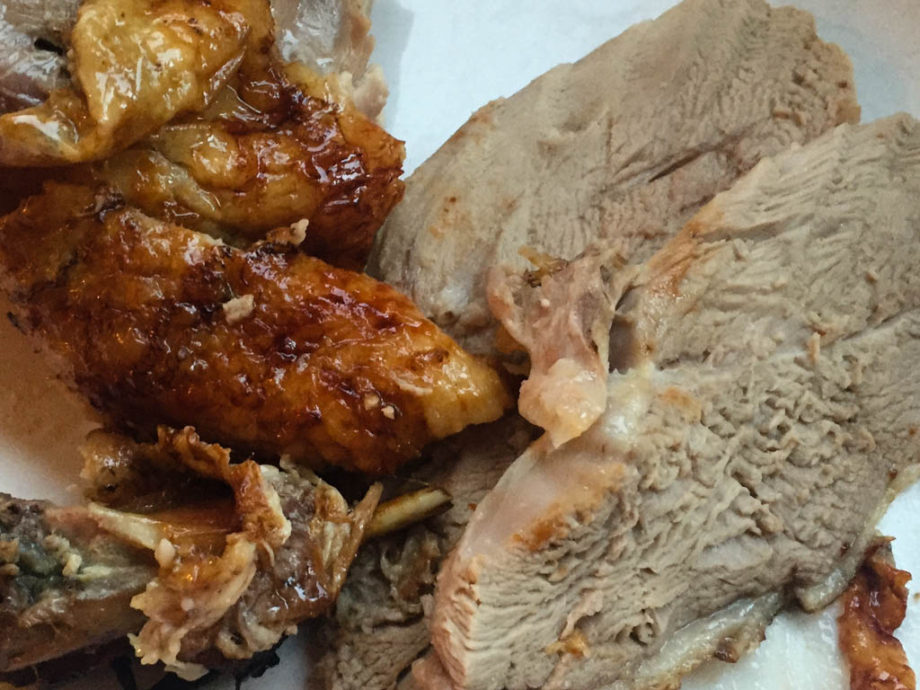 Sue says:
Well! What can I say about duck à la orange? It was fabulous! Absolutely gorgeous dinner. This is one recipe that should still be cooked and served in the best restaurants, but sadly, due to decades of poor renditions of it, it has fallen out of favour.
I was rather trepidatious myself to be honest. Duck in any sort of fruit sauce these days simply means "duck drowned in sugar" in most places. Think Chinese restaurants and their sickly sweet sauces.
But this one was delightful. The scents, wafting up the stairs for a couple of hours before dinner were wonderful. I was clearing out the spare room and my senses were being assaulted by wine cooking and roasting meat. The duck was perfectly cooked for me. (I don't want my duck bleeding onto the plate.) The skin was crispy and salty and had plenty of umami with it. The sauce was silky and flavoursome from the beautiful stock Dave had made the day before, and although it was an orange sauce, the citrus was mild and subtle with the main flavour coming from the Julienne strips of orange peel. This really was a sauce that complimented the duck.
Dave served it with buttered carrots, sweet and full of colour and flavour and also soft mashed potatoes and asparagus. All in all this meal, although not full of fancy show-off skills, was a triumph.
10/10