Oxtail can be delicious. It can also be tough, chewy and unpleasant. Now, I do like a good Oxtail Soup, so how might this particular one turn out?
The recipe calls for "1 oxtail". No clues as to how much oxtail that actually is. I buy my oxtail in packs of 500g (or thereabouts). Is that "an oxtail"? Wikipedia comes to the rescue. Apparently "An oxtail typically weighs 2 to 4 lbs. (1–1.8 kg)". So, that's three 500g packs then.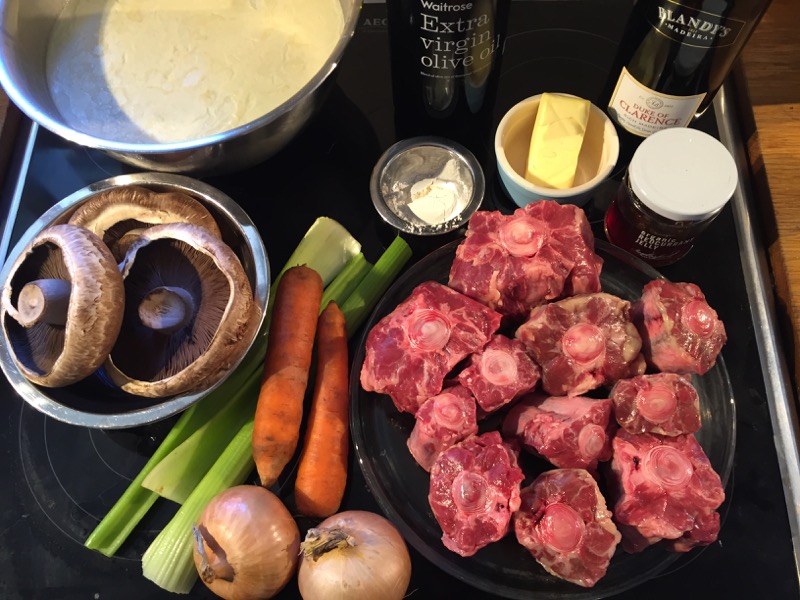 Next, it demands a "roomy stew-pan" that I can heat on the stove top and then put in the oven afterwards. We have a small kitchen, with limited storage space; I don't have anything that fits that description. Usually for these kinds of things, I do the initial cooking in a wok or large saucepan, and then transfer to a large casserole dish to go into the oven to finish off. That would have to do for this.
I season the oxtail pieces, roll them in flour, and then cook them in batches in a pan until dark brown and crusted.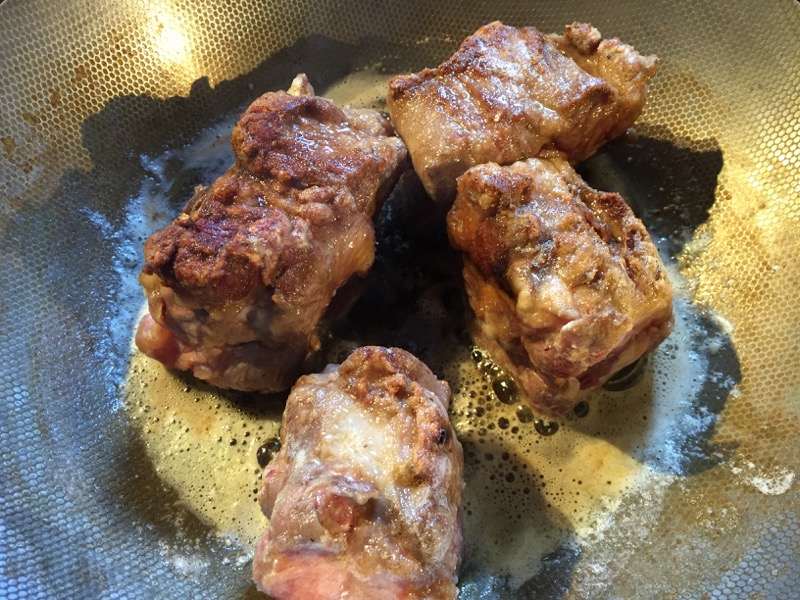 Once they're done, I put them to one side and cook some chopped vegetables – carrots, onions, celery and mushrooms.
Then, I'm supposed to return the meat to the pan. Houston, we have a problem. The vegetables already take up a a fair amount of space, and I still have to add the stock. There's no way all that oxtail is also going to fit; nor is all this going to fit into the largest casserole dish we have. I seem to have misjudged the quantities for this rather badly.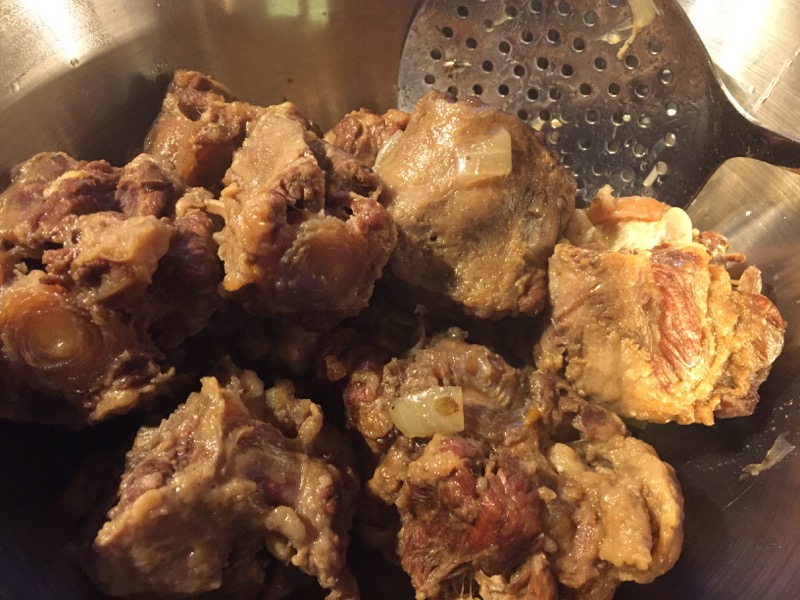 There's only one thing for it. The stock pot – the largest pan I own – is the only thing I have that will contain all of this. I put the vegetables into that, together with the oxtail, some Madeira, beef stock I'd made the day before, water and redcurrant jelly. I bring it up to a simmer and remove the scum from the surface. This is where it's supposed to go into the oven. Well, I'm afraid it's just going to have to cook on the hob instead. I put the lid on the pan and let it simmer gently for three hours.
When done, I remove the oxtail pieces and put them on a plate to cool. I strain the contents of the pan and leave the liquid to cool. Once cooled, it goes into the fridge. We're not eating the soup tonight; it's destined for lunch tomorrow.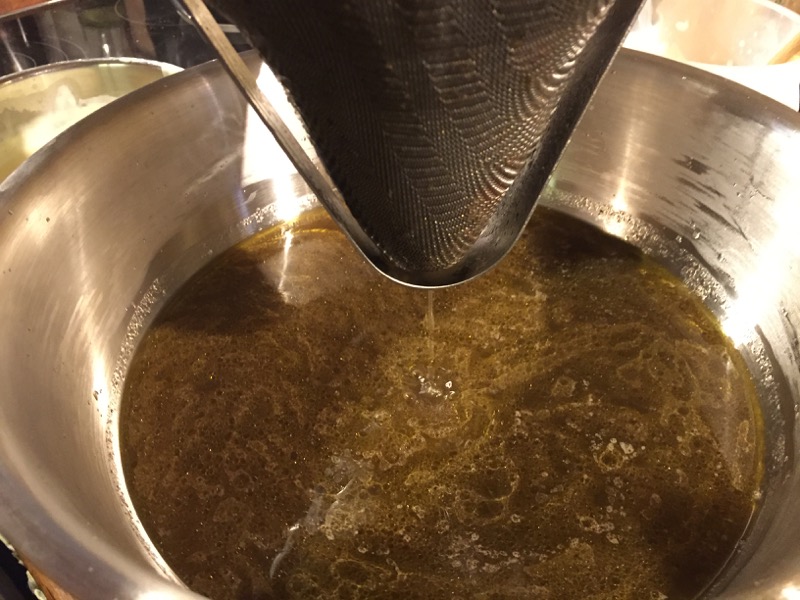 Finally for tonight, I shred the meat from the bones, being careful to remove any gristly bits.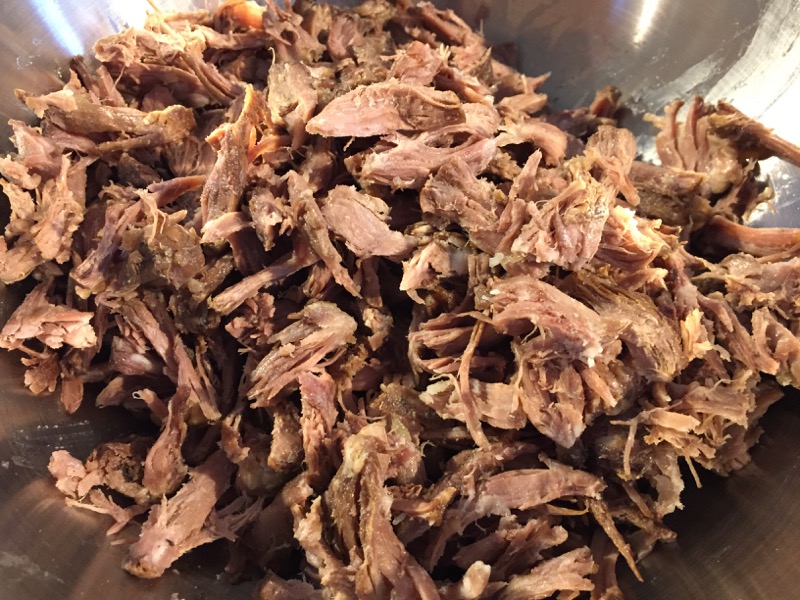 The next day, the soup has a thick layer of hard fat covering it, which I carefully remove. The contents below that are thick and gelatinous. It looks good.
I put the jelly into a pan and heat it through, seasoning it with salt and pepper and another splash of Madeira. I add some of the shredded oxtail and serve it with a slice of thickly buttered home-made bread.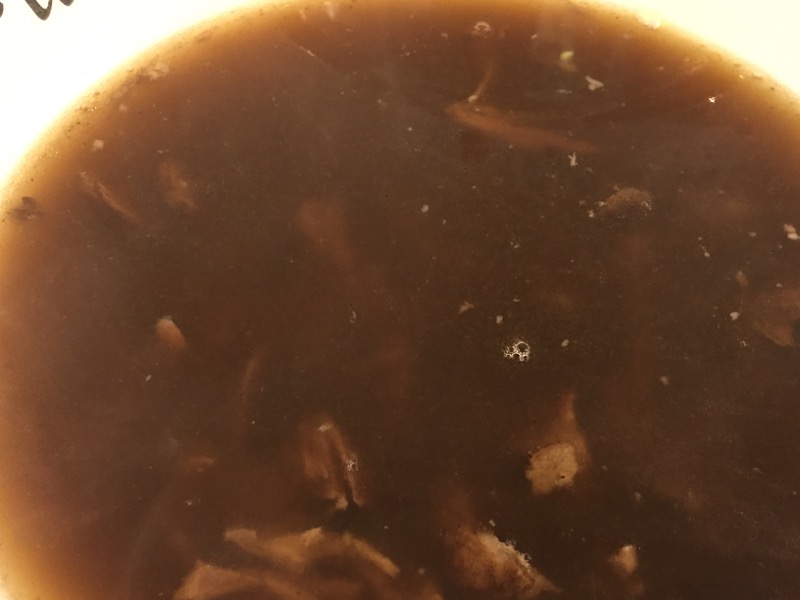 It's delicious. Some oxtail soups are thick and hefty, but not this one. It's light, fragrant and delicate; the shreds of oxtail are beautifully tender. It's really, really good.
Sue says:
It's a lovely sunny, spring day. Admittedly when Dave decided to make this soup. At least a couple of days ago, it was cold and miserable. But somehow I thought that oxtail soup was not going to be a winner for me on such a sunny day. He's been cooking this dish for days it seems. So I kept my fears to myself.
However, I was wrong. My only previous experience of oxtail soup is from tins. And I don't think it's very nice at all. Sharp and strong flavoured. I do like oxtail stew though, but then that doesn't taste anything like tinned oxtail soup so it's not very comparable.
This soup was a clear broth. Dark brown with a shiny surface. And it was so delicately flavoured and the seasoning so right that it was delicious and light and it didn't matter at all about the spring sunshine. In fact I think it might have been disappointing if I had thought it warming for a cold winter's day.
The Madeira gave the broth a sweetness that rounded the flavours out nicely. The soft shreds of meat gave it texture and body and the delicious bone broth made it feel very wholesome.
I would not worry about him making this again.
9/10