"No one makes Sausage Rolls now," the recipe starts. If they do, it goes on, they use ready-made pastry, or shop-bought sausage meat. It's true, I'm sure. I don't know anyone who makes their own Sausage Rolls from scratch. I make them from time to time, but it's really more assembly than cooking – a pack of ready-made puff pastry, a pack of sausage meat, rolled up together and baked. They can be very tasty – certainly way better than you'd get from your local Greggs – but calling them "home-made" is a bit of a stretch. Well, I'm about to change that.
First, the pastry. If you've been following my exploits here, you've probably noticed that I have some insecurities about pastry. In short, I'm not very good at it. Sausage Rolls demand flaky pastry which is doubly hard. Still, no point sitting here fretting, let's just get on with it.
Flour, and a little salt, are mixed together in a bowl, and then butter added – this isn't like normal pastry where you would rub the butter into the flour, instead, the butter is cut into smal cubes and loosely mixed in until all the pieces are coated.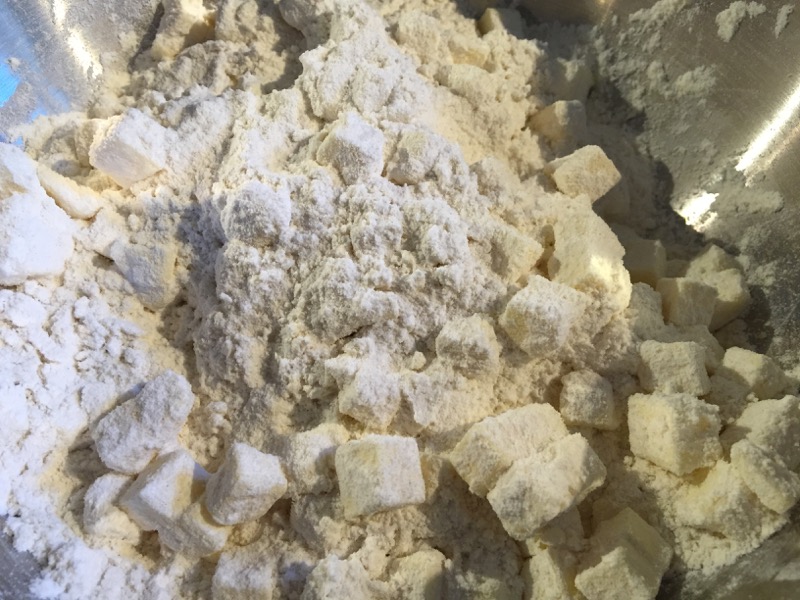 Then ice-cold water and lemon juice are added, and the mixture stirred gently until all the flour is mixed in.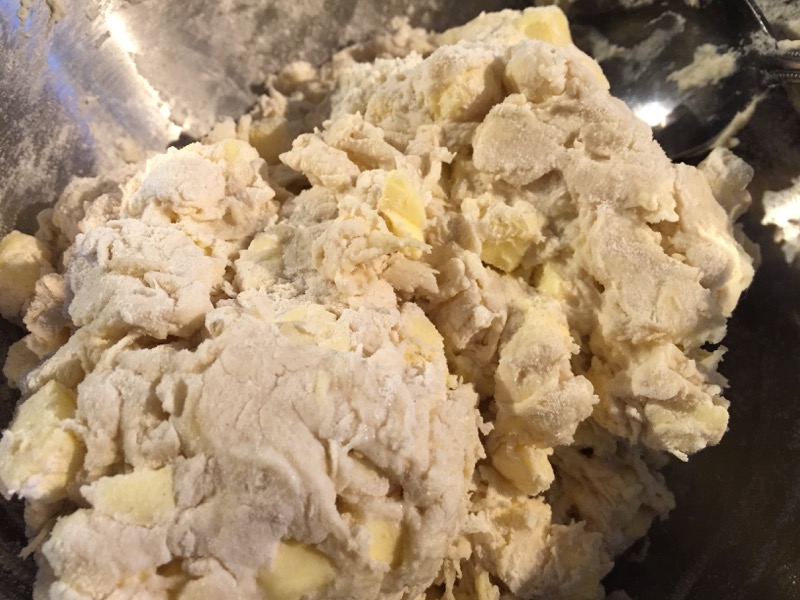 I shape the pastry into a thick rectangle, and then fold it into thirds, press lightly into shape and then put in the fridge for ten minutes. Then, I roll it out into a rectangle again, fold into thirds and put it back in the fridge, repeating this process a number of times. After the final rolling and folding, the pastry is put back in the fridge and left for a couple of hours to chill properly.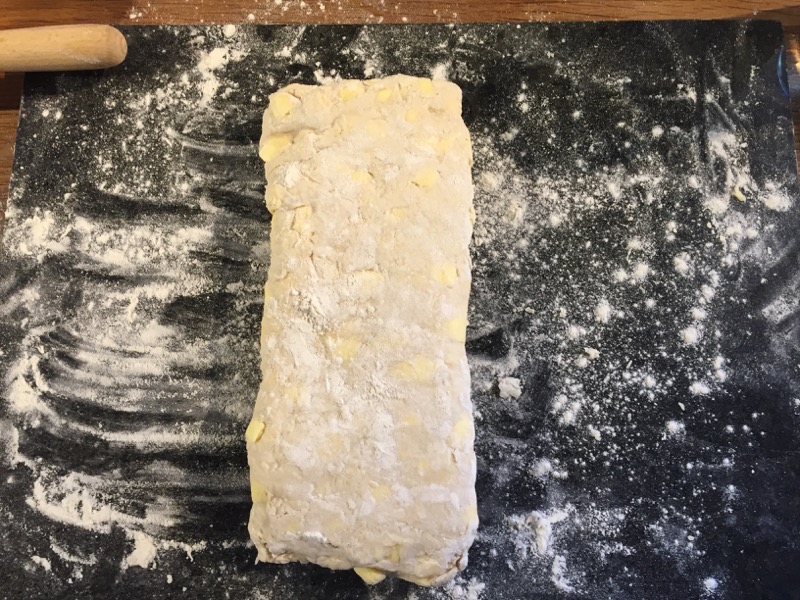 Now for the sausage meat.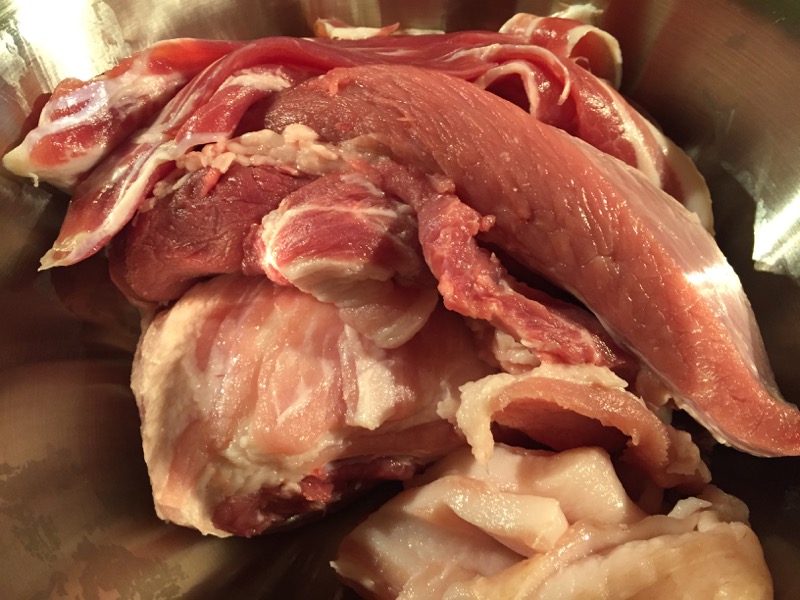 I start with some belly pork, pork shoulder, pork fat and streaky bacon, and pass them through the mincer twice. The mincing twice part is important – it helps break down the meat fibres, releasing some of the proteins (largely myosin) they contain. These proteins then act as an emulsifier, binding the meat together rather than having it simply crumble apart.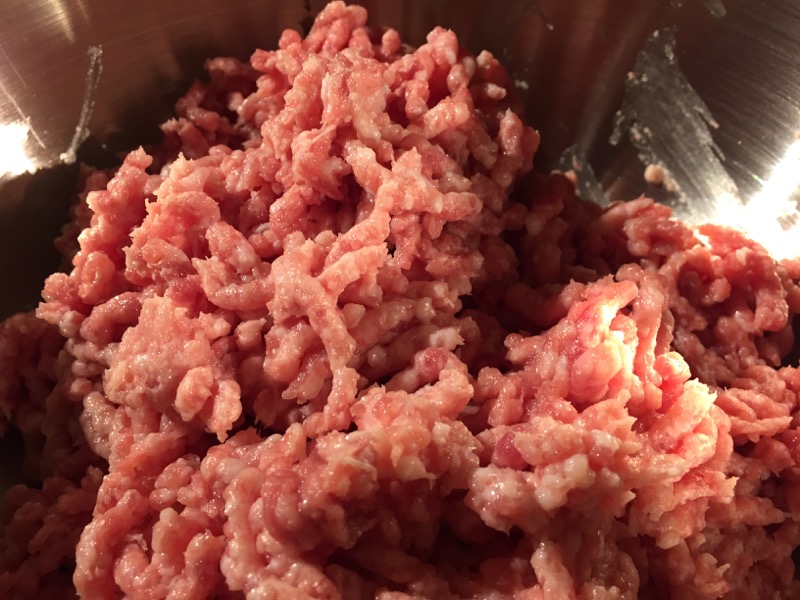 Next herbs, freshly picked from the garden.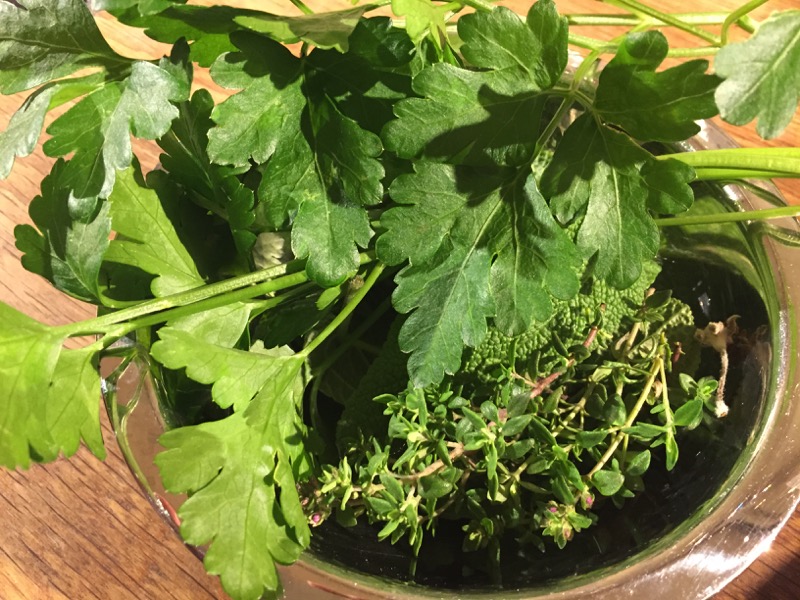 These are chopped and added to the meat, together with salt, pepper, lemon zest and a surprise ingredient – some syrup from a jar of stem ginger. Another good stir to liberate some more of that myosin – not too much though, we want to retain some texture here, not turn it into pasty mush.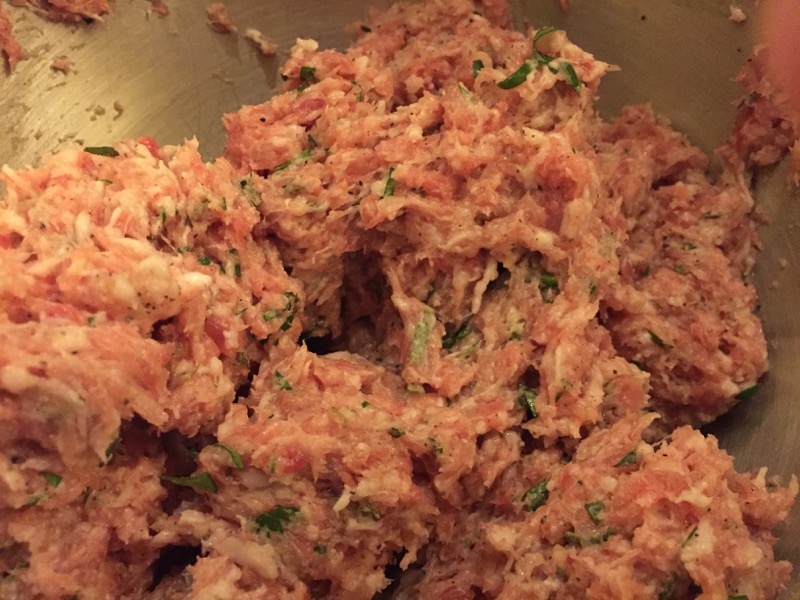 So, that's everything prepared. Now to put it all together. I cut the pastry into smaller chunks and roll each one out. I brush the surface with egg yolk, add a sausage shaped chunk of meat, and then roll it up. I keep doing this until all the pastry is used up – there's still some sausage meat left – perhaps I'll make some meatballs with that later.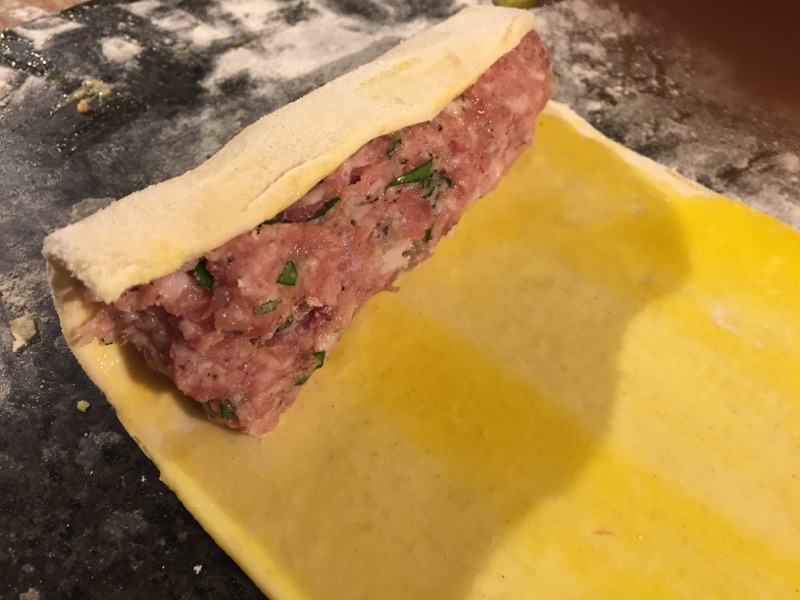 A final brush with egg yolk, cut slits in the tops and into the oven they go.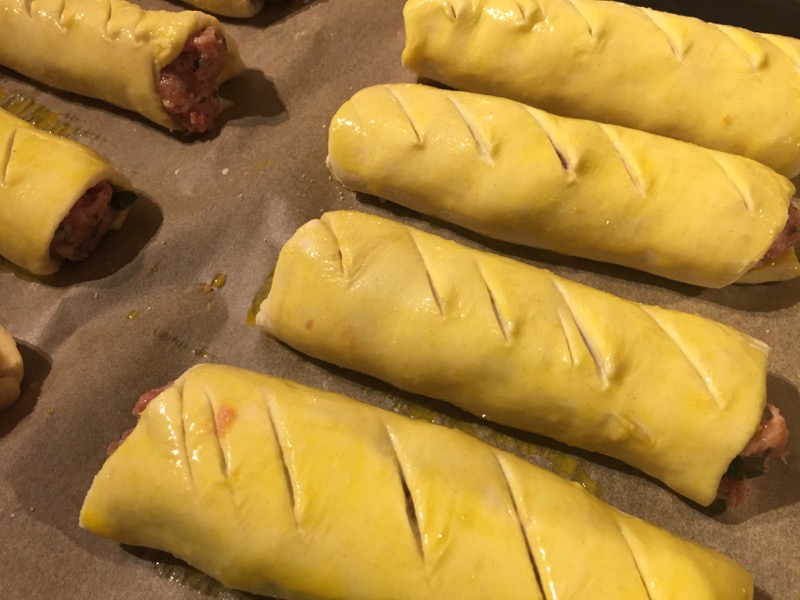 Half an hour later, they're ready to eat. Sue, who's been out all evening, happens to arrive home just as they are ready – impeccable timing. So, we tuck in.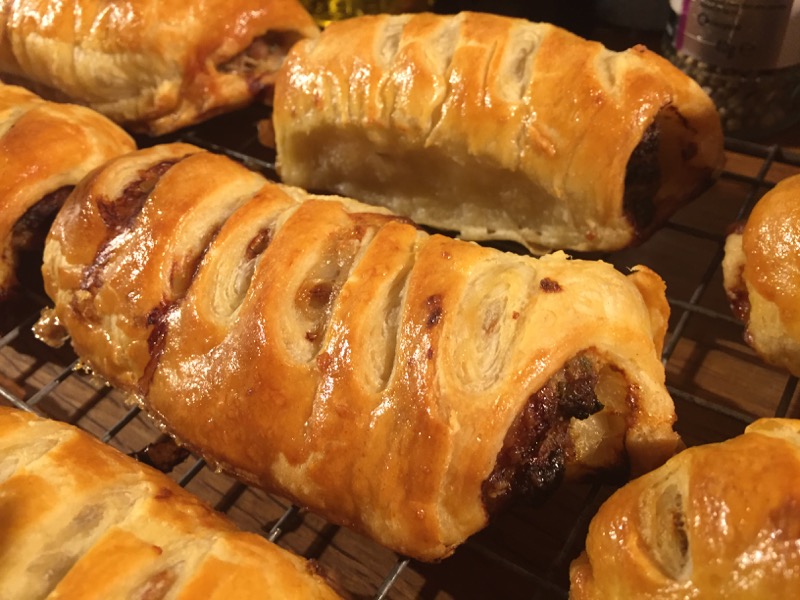 They are delicious. The pastry is perfect – soft, crumbly and beautifully flavoured. The meat filling is excellent – moist, succulent and very, very tasty. The lemon zest adds an interesting element, and the stem ginger syrup provides a nice zingy touch to the overall flavour. They're so good, we both go back for a second. Greggs certainly has nothing on these.
So, it wasn't that hard at all – not even the pastry. This recipe is definitely on the list for a repeat visit sometime soon.
Sue says:
Well! Who doesn't like a sausage roll (apart from vegetarians, who probably aren't reading this blog). I love a good sausage roll. Not that good ones are easy to find.
Dave made every scrap of these from scratch. I'm impressed. And they taste delicious. The secret ingredient of ginger syrup is lovely. It adds a hint of warmth to the mouth after swallowing. And there is lemon zest to make the flavours pop.
But then Dave is very good with meat. I'm most impressed that he made the flaky pastry.
This recipe is a definite hit.
10/10